Guten Tag!
Why I'm in Berlin
Ich bin ein (not quite official) economic migrant. I live in the Eastern bloc, in Friedrichshain, right on Karl Marx Allee in a building that was ordered to be built by Stalin. I ride my bike to our office in the Western bloc, because I can.
Berlin is huge. Very huge. Our office is in Schöneberg, in the Space Shack co-working space. Relatively speaking, I live close to the city center, and the office is also quite close to the city center, yet in reality it is actually 9 kilometers away and takes at least 40 minutes to get to by public transport. When looking at the map, it seems like a small distance compared to the rest of the city, since it's still in zone A, out of the main zones A, B, and C. That's how big Berlin is.
Space Shack is pretty cool. There is always something happening, whether it's the meetups hosted by us and others, or the frequent parties. It's almost like they don't let you work here! Works for me.
We were in Space Shack before it was cool. I mean, we were here even before it was founded. We sat in an empty room behind a small desk since last November while they built the offices downstairs. We were only a few people, a core group that would go have cold beer at the minimarket after a full day of hard work. In January, our office was finished and we moved in. Later on in March, we had our official opening party. Today, the coworking has 3 floors, a restaurant/coffee place, a game room, nap room, lecture rooms, conference rooms, an outdoor terrace, showers, and bike garage. X people work here and X companies have their offices here as well.
Germans as business people seem to be more serious and demand higher quality standards than Czechs. They take everything way too seriously. Although they have quite a high minimum hourly wage (8.5 €/h), a lot of students and fresh graduates have to end up taking "internships," which are nothing but slavery - working 20h officially (on paper), when in reality it's 50-60 h without being paid for the extra hours. Companies wouldn't be able to afford them otherwise. Thus, individuals seeking to be hired are expected to have a solid education and years of business experience (read: being a slave intern) to just apply for a decent job. Employees are paid quite well though.
Food and Beverages
Bier is pretty expensive here. In the Eastern bloc it's a bit cheaper (the reason why I live there) than in the Western. The Western part has a lot of interesting pubs and (illegal) bars. Everybody knows Kreuzberg, right?
The most traditional Berlin/German food is certainly kebab. The food quality is much higher here than in Czechia, ground veal actually has meat in it, and stale salad is just not a thing. In a kebab you mostly find things like fresh coriander, lots of veggies, mushrooms and limet sauce. If you want to be one of the cool kids, you have to go vegan, or at least vegetarian. And why the hell not, they always have at least 5 different veggie meals for normal prices and even the Vietnamese guy in the small shop next to your house has at least 8 different types of vegan milk. Not eating meat here is way too easy.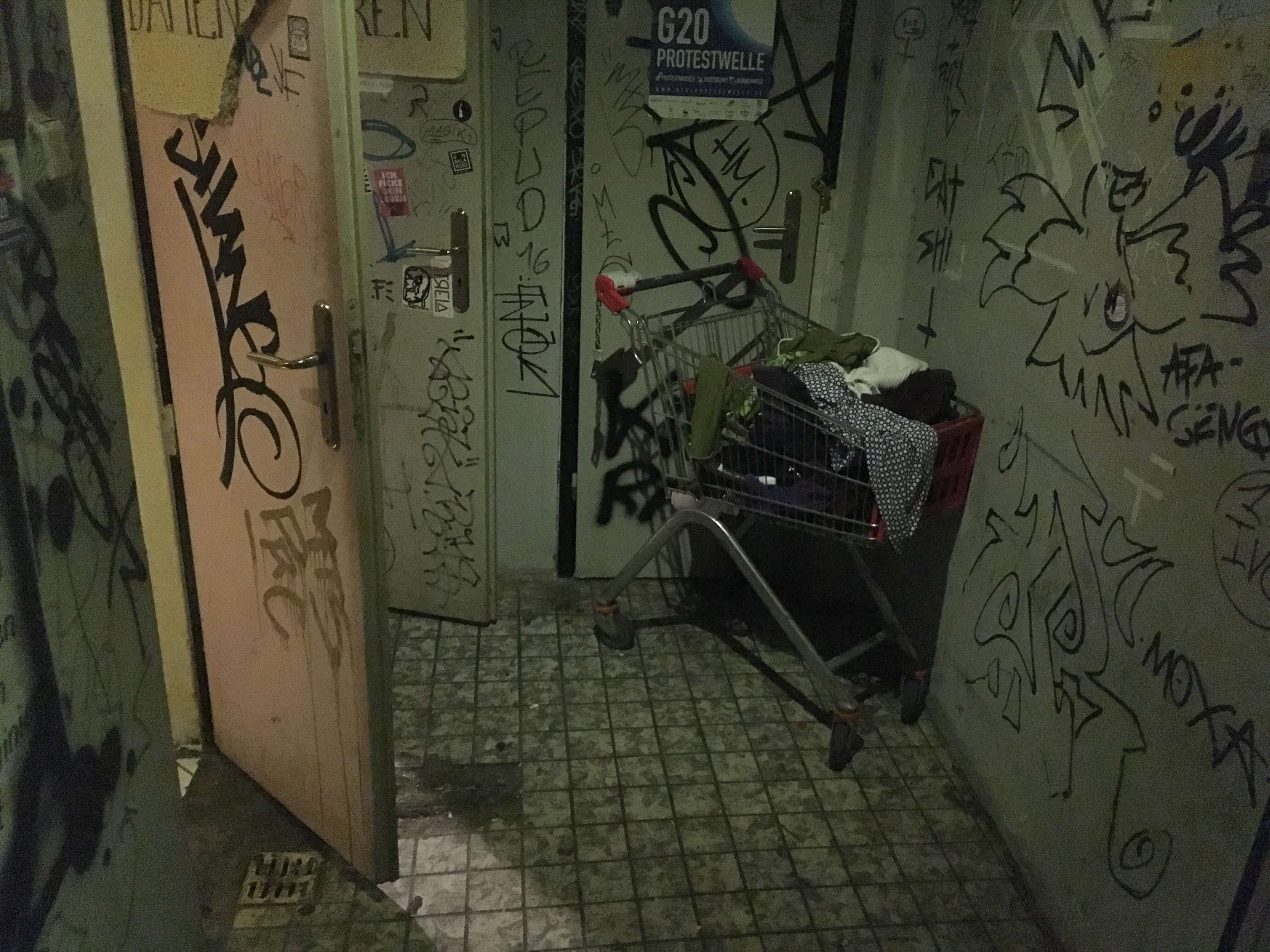 People and Language
I was naive to think I'd learn German in Berlin. There are almost no Germans in Berlin! And when you find one, he/she speaks perfect English.
Sure, you can still find a few "locals" speaking only German. And if they don't kick you out yelling  "Auslander raus!," you can even learn a word or two. Below you can find a so-called "Survival Dictionary":
Welche soße? – What sauce?
Salat komplett? – You sure you want all the green things?
Ohne Zwiebel. – No onions.
Knoblauch und Kräuter, bitte. – Garlic and herbs, please.
Ja, ja, extra super scharf! – I don't want spicy food, it makes my stomach hurt.
Zum Mitnehmen oder hier Essen? – Pay me already and get lost, there is a huge, hungry queue behind you.
Everybody is either a hipster or a hairy hippie. Flat-share, called WG, is quite popular and meant for sharing everything with other roommates. If you are not a hipster, hippie, vegan, German-speaking bisexual girl kind of person, you'll have a hard time finding a flat-share. Sharing stuff and recycling, on the other hand, works perfectly here. Facebook is full of groups giving out used furniture and other equipment for free. Sometimes they even share food for free. It's Paradise for ecofascists <3.
In the last few years there have been a lot of gay pride parades, (see the picture below) and the hetero community is being oppressed more and more. Heterosexuals are often considered odd and bizarre in Berlin. Hopefully it will get better soon and there will be a hetero pride organized as well!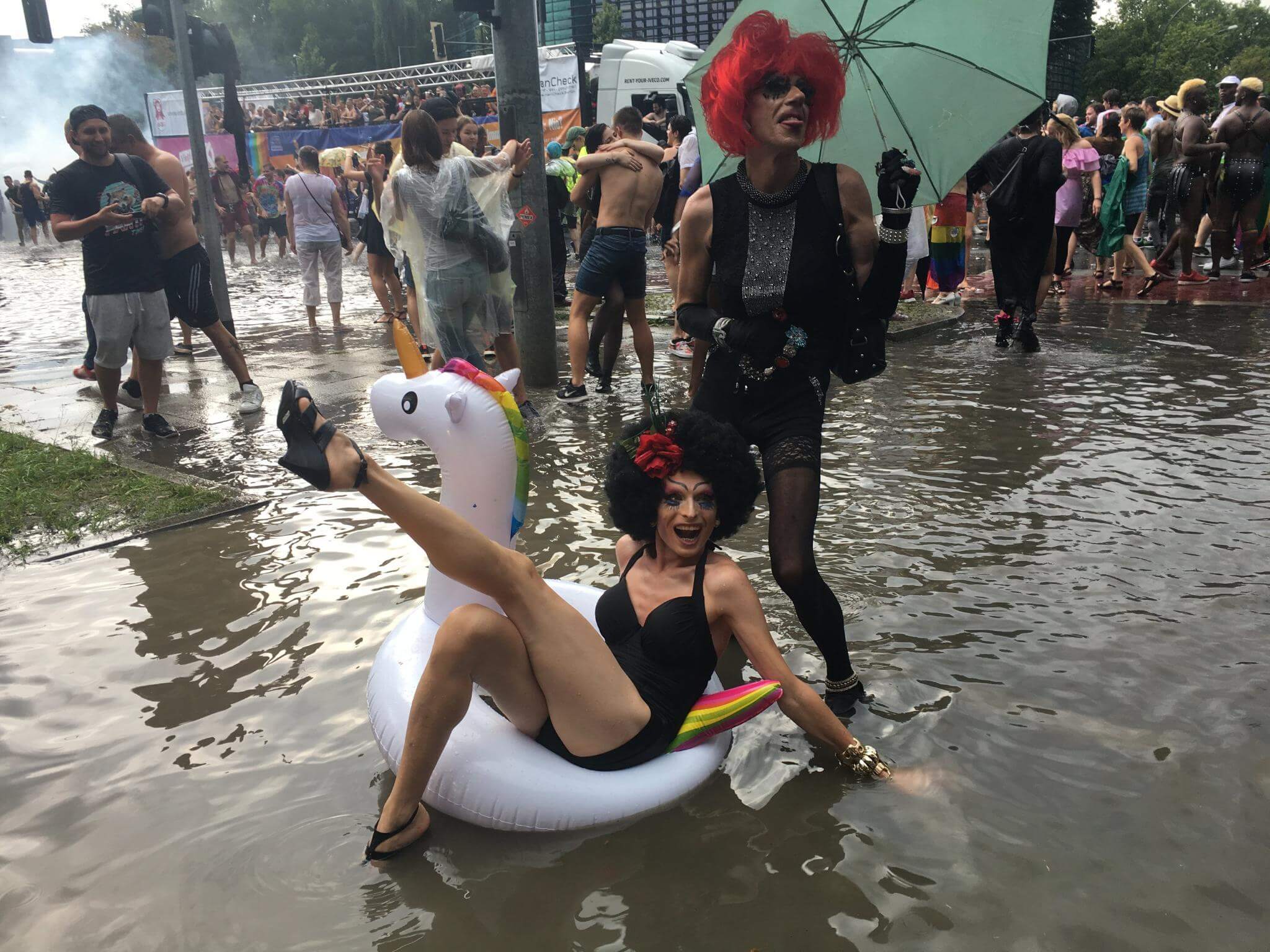 Berlin is exactly that weird place where when you get into the U-Bahn (subway, metro, whatever…), the guy in front of you wears transparent underwear, a ripped leather jacket, and starts playing the electronic keyboard. Hello Stephen Taylor! Berlin is a paradise for artists. All kinds of them. In Berlin, as I mentioned earlier, there are no Germans. There are a lot of foreigners, exotic nationalities, different races, faiths, sexual orientations, and who-knows what else. A cool mix, you'll notice the difference fast. Touristically the city is very attractive, I'm not even able to reply to all the couchsurfing requests from people wanting to stay at my place or hangout.
Where to go and what to do?
Electro-music lovers love Berlin. Everybody's probably heard of Berghain, but there are much better places to go. Music and sex-fetish clubs are a significant part of the local culture. Beer is more expensive there though.
Meetups! I visit the technological ones more, and they are much bigger than in Prague. The communities in Prague are smaller or don't exist at all for a given technology, so people simply don't meet. In Berlin, there are more than 3.5 million inhabitants and sponsors of events that are happy to buy some pizzas and beer. (Yes, this is a "Where to eat cheap and good in Berlin" recommendation).
Berlin is flat, and a bike is the most reliable vehicle here. If you don't want to buy a rusted hipster vintage bike from the '80s for 20 € and are willing to spend a bit more, it is easy to get a nice working second-hand bike that can get you on Saturday to Spreewald, to the sea's FKK, to Potsdam, or even Poland. I don't recommend the trip to Poland though. Once was enough.
You should definitely check out Thai park, where local Thai people gather during the summer and prepare traditional cheap Thai food. Parks are generally heavily visited by locals. They go there every day after work with a good book and a beer from the minimarket. For more entertainment there is karaoke in Mauerpark or flea markets in all parts of the city.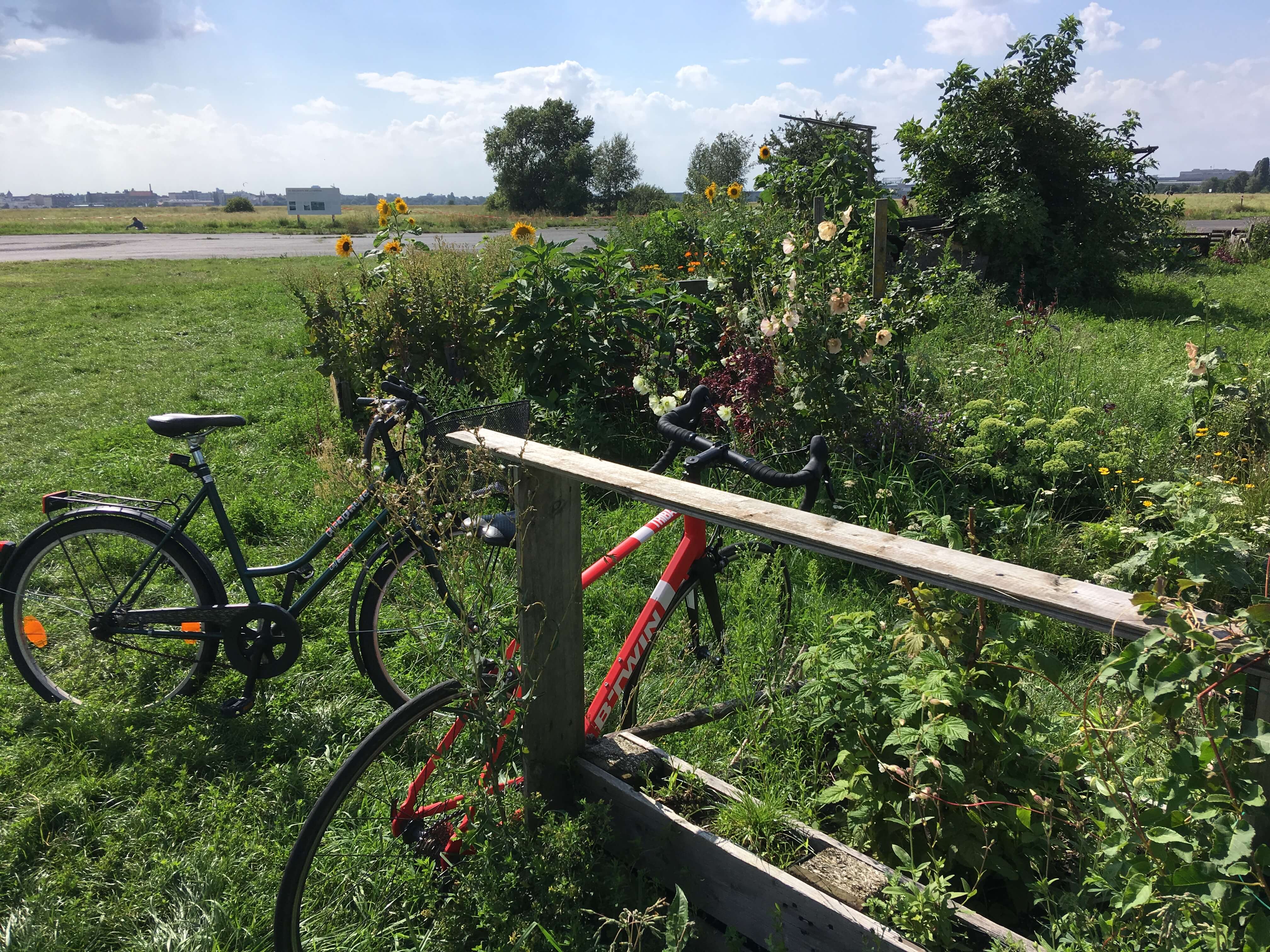 Summary
We are having a good time in Berlin. Peace, and spread the love. Auf wiedersehen.